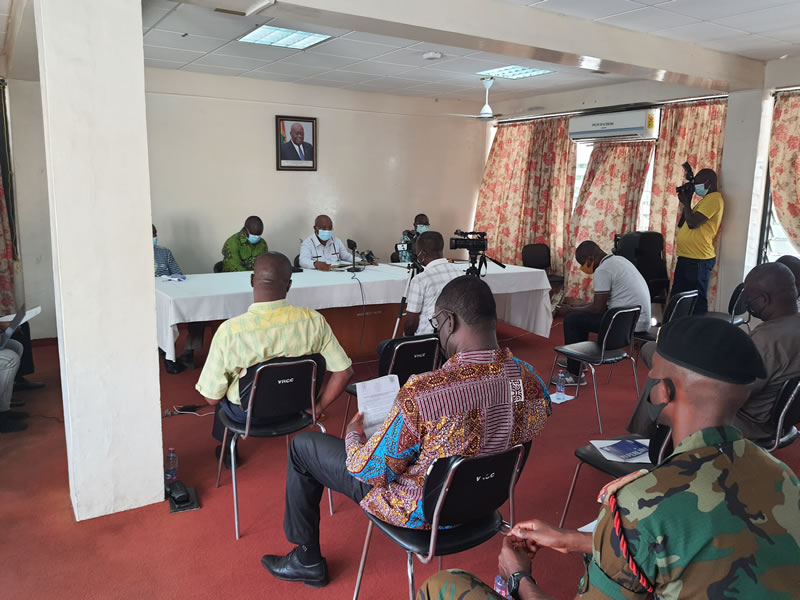 Members of the 2021 PHC implementing team held an information session for the Regional Census Implementation Committee and other regional stakeholders in the Volta Region. The information session was held in the Regional Coordinating Council Conference Room in Ho. The purpose of the information session is to provide regional stakeholders an overview of the census, highlight the resourcefulness of the census data, discuss the activities for the 100 days to Census Night and preview the Regional Field Strategy.
​Honourable Dr. Archibald Letsa in his welcome remarks highlighted to To to participants the importance of the session in providing information on what is expected of regional stakeholders. He urged everyone to participate so that they would be fruitful discussions and clear understanding of roles and responsibilities at the end of the day. He concluded by reminding them that without statistics we cannot plan and so the census was an important exercise that everyone should participate in.
The Government Statistician and Chief Census Officer, Professor Samuel Annim also gave brief remarks to the participants. He expressed his appreciation to the regional stakeholders for their endurance during the period of postponement of census activities due to COVID-19. He stressed that the census cannot be conducted in Accra but rather in the districts and for that reason the Regional Census Implementation Committees are in place to provide oversight. The emphasised that the census was aiming for complete coverage and that no one should be left behind. The census will give a voice to everyone in Ghana. As such it is important that all regional stakeholders supported census publicity, education and advocacy activities to let the public understand the procedures.
The session also featured presentations from the census implementing team on the resourcefulness of the census data, the 100 days to Census Night strategy and the regional field strategy for the Volta Region. After the presentations, there was a lively discussion on census implementation in the region after which the Chief Director of the Volta Regional Coordinating gave his closing remarks and pledged the support of the region in making the census a success.