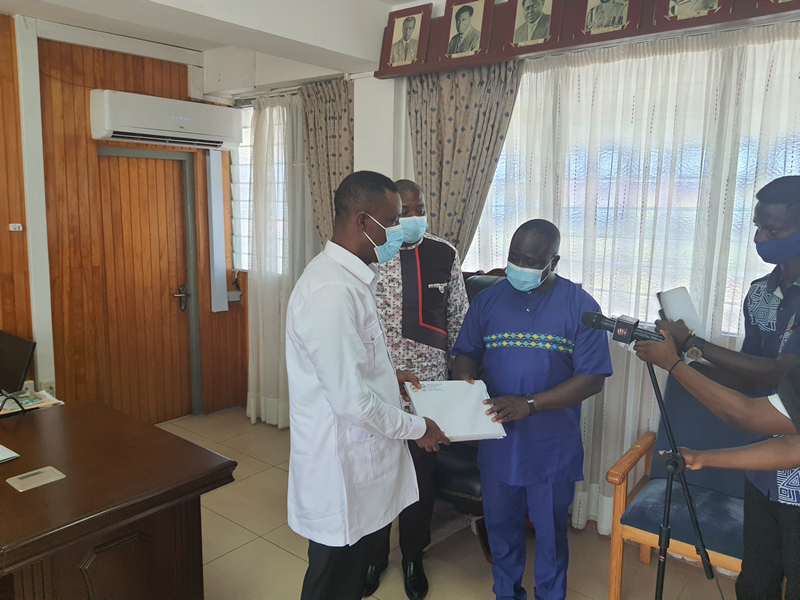 A delegation let by the Government Statistician and Chief Census Officer paid a courtesy call on the Regional Minister for the Western Region, Honourable Kwabena Okyere Darko-Mensah on Tuesday April 13th at his office in Takoradi. The courtesy call is part of a nationwide tour to hand over census implementation to the Regional Coordinating Councils.
Following the introduction of the delegation, the Chief Census Officer expressed his appreciation for the courtesy call. He explained the aforementioned purpose of the visit and the organisation of a regional information session to equip members of the Regional Census Implementation Committees with the requisite knowledge to take charge of implementing the census within their region. He highlighted several areas in which the support of the Regional Minister was need for the census. These include in the facilitation of enumeration in areas with boundary disputes, support for publicity, education, and advocacy activities within the region, securing of storage facilities and office spaces and raising public awareness to combat the efforts of fraudsters posing as recruiters for the Statistical Service.
Honourable Darko-Mensah stated that the Western Region is keen to participate in census as region contributing the highest to the country's GDP. He stressed the need for data as it is the basis of development and the nation needed data for planning and decision-making. He also requested that the census provide disaggregated data at the constituency to better plan the nation's development. He ended by appealing to all persons in his jurisdiction to go through the right channels to apply for jobs with the census and not fall victim to scammers.