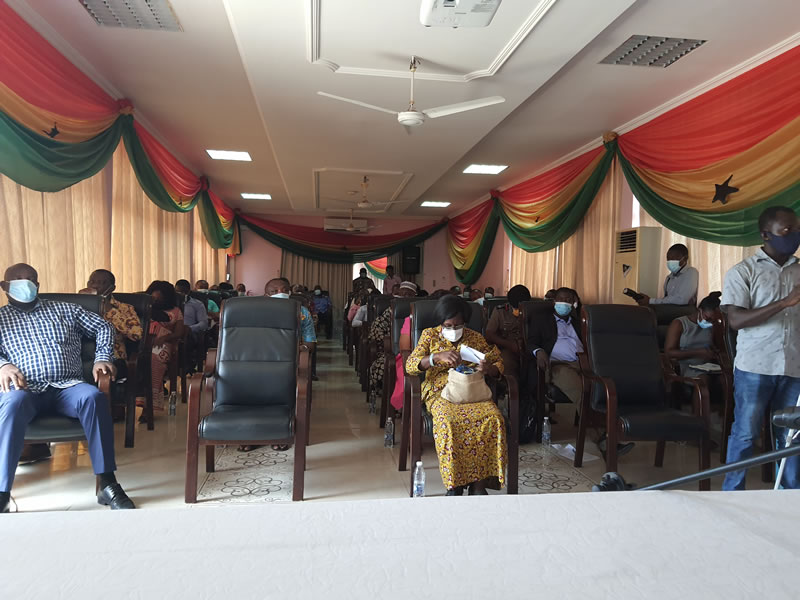 The Ghana Statistical Service organised an information session for the Regional Census Implementation Committee and other regional stakeholders in the Western Region. The information session was held in the Regional Coordinating Council Conference Room in Takoradi. The regional information sessions are being organised to hand over census implementation to the regions. The completion of the information session in Takoradi which followed the previous day's session in Cape Coast means that the regional handing over has been completed for Statistical Zone 1 which comprises the Central and Western Regions.
The session was chaired by the Chief Director of the Regional Coordinating Council, Mr. Fredrick Agymang. In his opening remarks, he expressed his delight at hosting the Government Statistician and his team in the region. He highlighted the importance of the census and the need for all to support the implementation. He also highlighted the breadth of information to be collected by the 2021 PHC and the 100 Use of Census Data compiled to educate stakeholders on how the data will be used. Read the full statement here
The Government Statistician and Chief Census Officer, Professor Samuel Annim also gave brief remarks to the participants. He first thanked the Regional Coordinating Director for highlighting the information to be collected during the census. He informed the participants that the aim of the 2021 PHC was comprehensive complete coverage and would be conducting a de facto count of 27th June. He stated that, similar to the Sustainable Development Goals, the census gives a voice to every person in Ghana without leaving anyone behind. The census is more than a count of the population because it provides important information on the characteristics that will be used to understand the population. He requested their support for key areas of census implementation such as in of locality-based recruitment, identification of locality focal persons and combating the efforts of criminals to use the census to defraud members of the public. He ended by thanking them for their time and expressing that he was looking forward to collaborating with them.
Following the opening remarks, there were presentations providing an overview of the census, highlighting the resourcefulness of the census data, discussing the activities for the 100 days to Census Night, outlining the institutional roles of the Regional Census Implementation Committees and a preview the Regional Field Strategy.