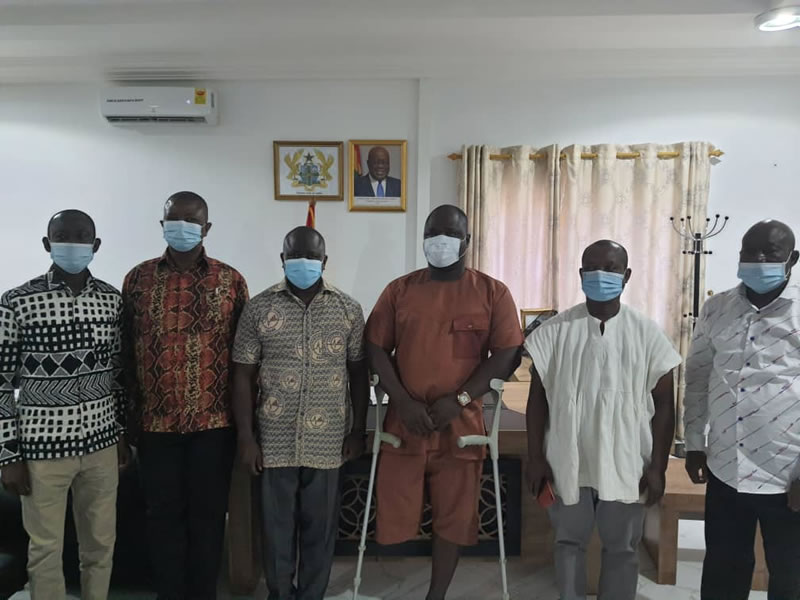 A delegation led by the Government Statistician and Chief Census Officer, Professor Samuel Kobina Annim, paid a courtesy call on the Regional Minister for the Oti Region, Honourable Joshua Makubu in Dambai on Friday 9th April. The purpose of the courtesy call was to brief the Regional Minister on the status of census implementation and officially hand over census implementation to the region. Honourable Makubu first welcomed the delegation and expressed his appreciation to the team for the courtesy call before the delegation explained the purpose of their visit.
Professor Annim thanked the Honourable Makubu for granting the delegation audience. The purpose of the courtesy call was because of the 2021 PHC. He noted that the day was the 79th day to Census Night but preparations had been ongoing for past three years. The purpose of the courtesy visit was to hand over the census implementation to the regions who have oversight responsibilities over the district level where the data would be collected. Thus the information sessions were being used to provide regional stakeholders with the needed resources to drive census implementation in the region.
He touched on several key areas where the strategic support of the Regional Minister was needed including engaging with persons living in areas with boundary disputes to facilitate a smooth exercise, supporting recruitment efforts to ensure Field Officers are hired to work in the localities where they live, providing logistical resources particularly secure storage facilities and office spaces, and supporting publicity, education and advocacy campaigns in the region.
Honourable Makubu informed the team that due to being an enumerator during the 2010 PHC, he was well aware of the challenges and the efforts involved in conducting a census. He was also well aware of the value of the data to be collected and he was ready to do everything needed to ensure that everyone is counted in the Oti region. He further proposed to use assembly members for the dissemination of information and community durbars to engage the public on the census.
Following the courtesy call on the Regional Minister, a including Mr. Henry Loglo, Oti Regional Statistician; Mr. Emmanuel George Ossei, Head of the National Census Secretariat and Mr. Owusu Kagya, Head of Census Methodology paid a courtesy call on the Chief of Dambai to brief him also on the census and enlist the support of traditional leaders for the census.