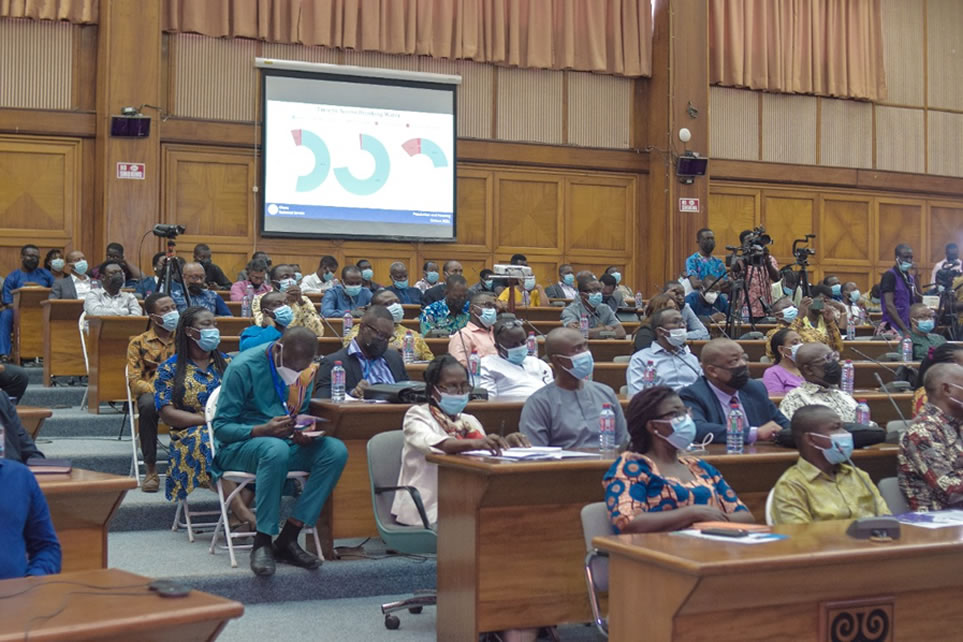 On Thursday, 24th February 2022, the Ghana Statistical Service released the final five volumes of the 2021 Population and Housing Census (PHC) at the Accra International Conference Centre. The release was co-chaired by the Minister for Sanitation and Water Resources, Honourable Mrs. Cecilia Abena Dapaah and the Minister for Works and Housing, Honourable Francis Asenso-Boakye (MP) whose sectors statistics were presented in three of the five reports released.
The Government Statistician, Professor Samuel Kobina Annim presented highlights from the General Report Volume 3G: Information and Communication Technology; 3H: Fertility and Mortality; 3K: Housing Characteristics; 3M: Water and Sanitation; and 3N: Structures. Following the presentation, the Co-Chairpersons gave their remarks both focusing on the relevance of the data for development planning and policy and their commitment to collaborating with the Statistical Service to ensure uptake of the census data for decision-making in their respective sectors.
In attendance were participants from other countries in Accra attending a UNECA Census Workshop on Good Practice in Digital Censuses hosted by GSS, a wide variety of stakeholders from the public and private sectors, academia, civil society and development partners and staff of GSS.
Download the all the volumes of the 2021 PHC General Reports here