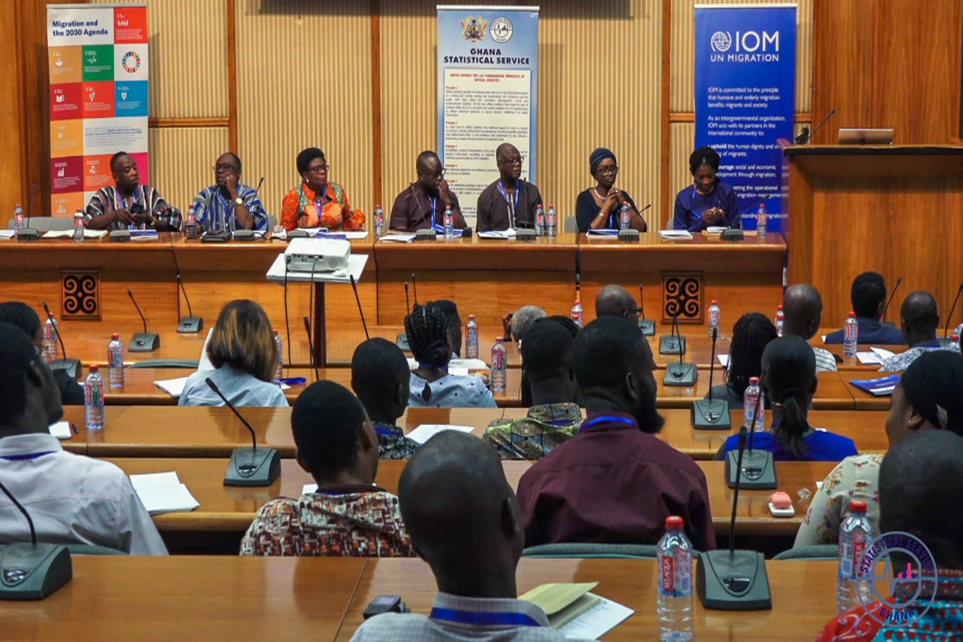 The Ghana Statistical Service (GSS) in collaboration with the International Organisation for Migration (IOM) released the 2021 Population and Housing Census (PHC) Thematic Report on Migration on 9th March 2023. The report presents an analysis of levels, trends, and regional differentials in internal and international migration. It also presents the characteristics of migrants such as age, sex, education, employment and living conditions, main reason for moving, employment, occupation, industry, employment status, employment sector. The report produced by a cross-cutting team of writers composed of a Lead Author from the academia, two subject experts from GSS and aa senior researcher from the Ministry of the Interior.
The programme was chaired by Mrs. Adelaide Anno-Kumi, Chief Director, Ministry of the Interior. In her remarks, she highlighted the importance of the report and congratulated GSS for releasing statistics on migration because the data provides the basis for planning, implementation, monitoring and evaluating and needs of the population.
The Government Statistician, Prof. Samuel Kobina Annim, gave the opening remarks which focused on the importance of data utilisation keeping in mind the "leaving no one behind" sustainable development agenda. He noted that Ghana in recent times has not been able to do a survey solely on migration. He added that it was important such surveys are conducted in collaboration with Ghana Immigration Service and Ministry of Tourism, Arts and Culture, to accurately capture the issues relating to travel and tourism.
Mrs Fatou Ndiaye Diallo, Chief of Mission for Ghana, Togo, and Benin made a statement on behalf of IOM. She commended the Statistical Service for producing the report which provides the very much-needed data to interrogate the state of play of migration in Ghana to inform the right policy engineering.
Prof. John K. Anarfi, the lead author of the Thematic Report on Migration presented the key findings from the report as highlight above. Following his presentation, the discussant, Prof. Stephen Owusu Kwankye of the University of Ghana Regional Institute for Population Studies gave his remarks.
The 2021 Thematic Report on Migration is available to download from https://census2021.statsghana.gov.gh