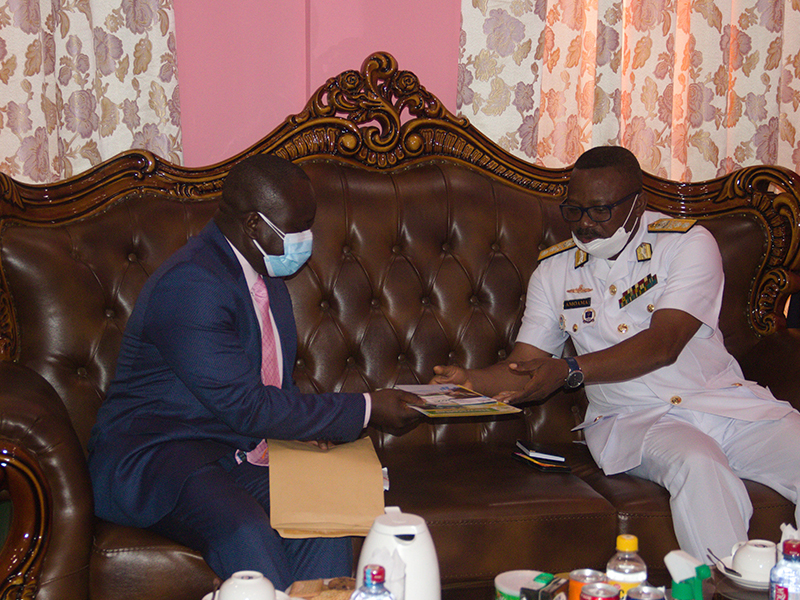 A four-member delegation from the Ghana Statistical Service (GSS) paid a courtesy visit on the newly appointed Chief of the Defence Staff (CDS), Rear Admiral Seth Amoama on Wednesday, 17 February 2021. The purpose of the courtesy call was to brief the Ghana Armed Forces (GAF) on the 2021 Population and Housing Census (PHC). The delegation was led by Professor Samuel Kobina Annim, the Government Statistician and the Chief Census Officer.
Rear Admiral Amoama welcomed the delegation of behalf of the service commanders and all the members of the Ghana Armed Force. He acknowledged the importance of the census for planning and the complexity of implementation that required the support of strategic partners. As such, he assured the GSS of the support of the GAF for the census. He expressed his excitement about the 2021 PHC being digital and wished GSS the all the best in making the Census a success. Professor Annim, on his part, thanked the CDS for his support and congratulated him on his appointment and provided an overview on the census focusing on the benefits and the areas of strategic support needed.
Following the meeting with the CDS, the delegation met with the Directors-Generals of key departments of the GAF to brief them on the census and discuss areas of strategic support.